All weekend, I've felt this pressure sitting on my chest.
Ok, well most of the time, it was my very active little O-man making a new game of climbing on Mommy then scooting across the couch to climb on Daddy....this game lasted at least 30 minutes.
But the other times...it was the
"OhmyGodIamturning30andIcannotbelieveit"
sort of feeling.
And its sort of left me speechless.
Not that I'm dreading turning 30 or anything. :) I actually had a harder time with 25. Something about that age being considered "
antique
" made me feel sort of...well...antique!
And I'm not embarrassed to tell you I took a good, long look at myself after getting out of the shower last night.
I'm pretty sure Hef won't be calling me to pose for Playboy anytime soon...and I would love to loose an extra 5 pounds...and rub away the wrinkles around my eyes.
But I also see the scar I got from jumping off the side of the pool when I was six, and the freckle on my index finger, and the hole where my belly button ring used to be....and of course, the scar from my c-section.
They make me.....
me.
-----------------
I can't say I wished for anything this birthday--since my perfect gift is O-man. I remain thankful for that gift. And thankful (so very thankful) for this community that has wrapped me in a hug so many times. So I find it lovely timing that the ever so thoughtful
Mel
has come up with another one of her brilliant ideas.
The Celebratory Society.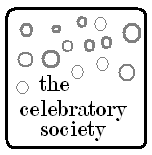 Think of this as the most interesting delurking project you'll ever participate in. After giving back to others at the Celebratory Society, I have decided to participate in it myself. You can understand the project in full by
clicking here
, but in brief, the Celebratory Society is an online festschrift for a blogger--a way for you to tell me what my blog or actions mean to you. But this isn't about me--this is about you too. And I would love it if you returned to your own blog, started your own Celebratory Society post, added it to the main project list, and gave me the opportunity to tell you about...
you
.
So I'd love it if you'd join me in celebrating! I may wince at the mention of
turning 30
but I am grateful to blow out 29 candles...for the second time ;)