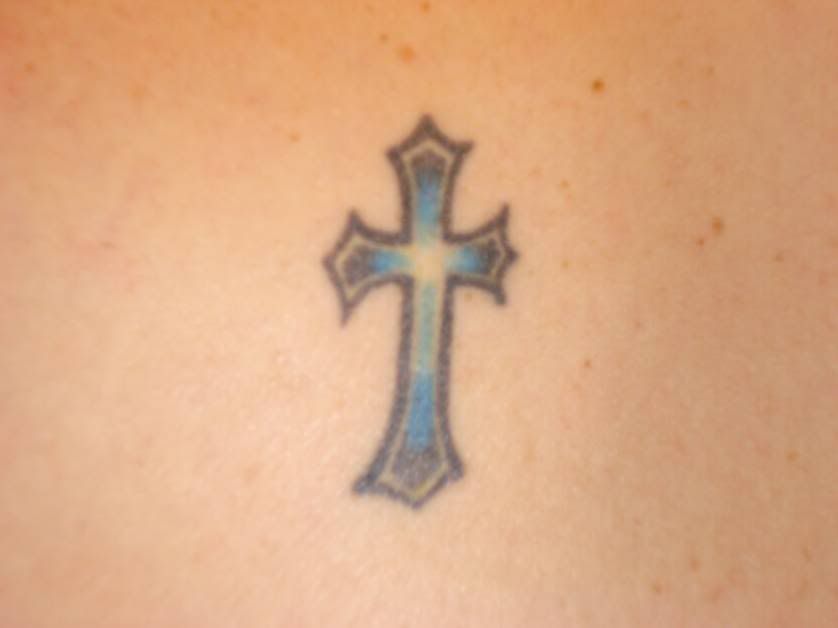 As requested, here is my
Mel Gibson
inspired tat:
It resides on my left shoulder blade, and if you look closely you will see four colors: black, blue, green and the most faded now is yellow in the middle. While I obviously don't see it all the time, it makes me smile when I catch a glimpse in the mirror. It's also cool to see some of our wedding photos where Mook and I are dancing, and our photographer zoomed in on my back to highlight it: a great reminder of faith in a marriage.
Also, since
Neenie
has officially
challenged
my "Shoop" skills, I say that we find a third member to complete a come back trio of S-n-P! I also loved that a lot of you were rappin' in your comments! We can all get doooooooooooown together ;0)
------------------------------------------

I found it appropriate that I got to post a picture of my cross tattoo today, because this post has to do with
faith
in my blogging buds. It's been on my mind quite a bit recently, and I've found it difficult to admit that it has come time to put it into words.
With my one year blogoversary having just passed, I thought about those first blogs that I sought out to connect with and how I was hesitant to enter a support group that I didn't want to be a part of at all: I didn't
want
to be dealing with infertility. However, I found that I was instantly welcomed--and it felt so good to be understood.
It felt a lot like my first day at a new school, when my family moved to a new town when I was in 3rd grade. I was so nervous that I had to make new friends-and how I would fit it. There were a handful of girls that immediately made those nerves disappear. When I got home that day, I told my mom I had "ten new best friends!"
At the time, I was convinced those ten girls would be with me forever! We would always love the same
clothes
, we would always have a crush on the same
boy
, and have slumber parties every weekend! As you can probably guess, that wasn't the case. After a while, some of the girls went off with another group of friends, some moved to another school. I felt like my "forever friends" were abandoning me, and it took a while for me to accept
change.
But no matter what friendships I developed later-these first people always held a special place my heart: they had the greatest impact on making me feel welcome.
Lately it feels a lot like 3rd grade. When I joined the "class" of bloggers, I was convinced that these new blog buddies would be with me forever! We all yearned to wear these
clothes
and had a "crush" on this type of
man
. After a while, some of the buddies went into a new group of friends(mommy's-to-be), and some moved to another part of life(parents-after-IF). It's been hard to battle those feelings of abandonment again, and accept
change
...but no matter what friendships I develop later-these first blog buddies will always hold a special place in my heart.
A lot of similarities in the last two paragraphs, no? I knew this time would come last summer when the rash of BFP's popped up; a lot of them being my
Braces Bunch
gals. So, I have moved a lot of my original blog buddies into a new category on my blogroll "Parents after IF" and I am battling those feelings of abandonment as I move each one...
I sound selfish, and bitter by typing that I'm sure...but its a demon I have to face. I have to have
faith
that these blog buddies will check in on me now and again, and our friendships will continue. I also hope that I will connect with new friends on this journey. Truly, I do want everyone I come in contact on this journey to
be
in my new blog-category, I just need to know that I will connect with some other
doppelganger's
in my quest to be in
that
category as well....
To my original blog buddies: you are the cat's meow. Thank you for all you have done for me, and I am so happy that you are now parenting (or soon to be!) after a long hard journey--I have no doubt in my mind that your child will know how much he/she is adored. If they ever have a doubt or talk back to you, you know how to find me....
To the new blog buddies that I have connected with, and continue to meet, we'll keep on fighting the good fight! Oh, and don't you wish
he
was our RE?