There are plenty of times that I literally hear "two sides" of my brain trying to tell me something...and I feel I have entered that battle zone in the past few days...
I am on cycle-day-12...approaching the I.U.I
time line
....every other cycle for the past 6 months, I have been temp.
ing
and chart.
ing
and taking o-p-k tests....and have been getting good results.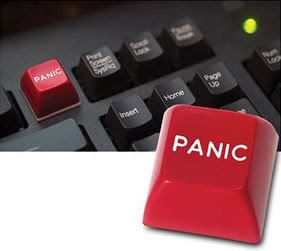 So why am I
panicking
?!! Today, I entered my temp into fertility.friend and it said that I
ovu
.
lated
3 days ago....
hmmmmmm
. Where I do not believe this to be true (since none of my tell-tale signs are
visible
: CM, low dip then rise, etc) it is just adding to my nerves that I am going to
miss
"the" day. Has anyone else experienced this with FF?
Yesterday, it was pretty clear on my test that there was no
ovu
.
lation
coming...and I will continue to test for the next 6-7 days, since I have gotten a positive result in that time frame in the past. But now I
know
I am going to be staring at the test in every kind of light, angle and grab a magnifying glass to make sure I am getting 2 pin.k lines!! I have just been using the
Dol
.
lar
Tree brand--Dr. D said those are just fine--but sometimes I get nervous they don't show the same results as some of these high $$ ones...
I know it is best to keep the nerves at bay through this whole upcoming process--the more calm and relaxed my body is, the more likely it will work like a well oiled machine.
Whew, just had to get that off my chest! Nerves are normal...just have to keep positive and test like I have been for a while now...and trust that I will get the signs
necessary
to go forth with our first
IUI
!